---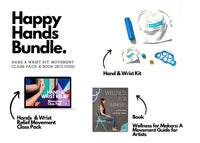 Sale
Included: 
Wellness for Makers: A Movement Guide for Artists
As an artist, I understand the toll that an active studio practice can have on the body. The repetitive tasks that artists and crafters take on every day often lead to strain and pain. I have worked hard to transform all of the information I've learned throughout the years about movement, posture, massage, and the artist's studio practice into digestible ideas for you to consider in your studio.

That's why during the pandemic, I wrote a book with the art and craft community in mind! By following the 40+ exercises outlined in this book with detailed photos, you will learn the best ways to sit, stand, walk, and move to reduce your risk of injury in the studio. My goal is to help you improve your posture and reduce your risk of developing a repetitive strain injury over time. Use this as a resource to learn the actions, techniques, and best practices that will allow you to move in a way that strengthens your studio practice and body.
Hands & Wrist Kit
Digital Guide Wellness for Makers Guide to Healthy Hands, Wrists, and Forearms. This guide includes instructions for all of the tools in the bundle. Use this guide to learn stretching, strengthening, and massage techniques to develop a Happy Healthy Hands Routine that works for you!
Foam Ball This tool helps work out knots in your hands
Acupressure Ring This massage tool helps stimulate the acupressure points in your fingers.
Mini Carrying Pouch Perfect for your foam ball and acupressure ring.
Hand Strengthening tool Strengthen your hands with this amazing tool!
Rist Roller Massage your wrists and forearms with a mini foam roller that you can take anywhere.
Large Carrying Pouch Bring your new wellness tools with you anywhere!
Hands & Wrists Relief Movement Class Pack 
You will receive a class every week for the next 3 weeks. Each class is 15-20 mins long. These classes are designed to teach you accessible techniques to find relief and build strength in your hands and wrists. Get ready to gain more awareness in your body! After the course is complete you will be able to go back to each class again and again. The more often you practice these techniques, the more results you will see in your body. I'll teach you how to move in a way that benefits you and your studio practice. 
Build Strength 🤩 
Building strength doesn't have to require fancy equipment. Learn how to implement accessible techniques into your daily routine that will help to strengthen in your hands, wrists, and forearms. 
Find Relief 😉
Come back to these sequences again and again to find the relief you deserve. Remember consistency is key to creating stronger movement patterns! 
Retail Value: $102.97
Bundle Price: $89.99