---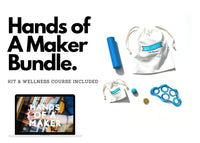 Sale
This bundle includes:
Hands of a Maker: A Wellness Course for Creatives Learn how to create longevity in your hands while working on your creative vision. In this course, I will teach you how to reduce your risk of injury in your hands, wrists, and forearms. Learn accessible self-care and massage techniques to apply to your studio/daily routines
Digital Guide Wellness for Makers Guide to Healthy Hands, Wrists, and Forearms. This guide includes instructions for all of the tools in the bundle. Use this guide to learn stretching, strengthening, and massage techniques to develop a Happy Healthy Hands Routine that works for you!
Foam Ball This tool helps work out knots in your hands
Acupressure Ring This massage tool helps stimulate the acupressure points in your fingers.
Mini Carrying Pouch Perfect for your foam ball and acupressure ring.
Hand Strengthening tool Strengthen your hands with this amazing tool!
Rist Roller Massage your wrists and forearms with a mini foam roller that you can take anywhere.
Large Carrying Pouch Bring your new wellness tools with you anywhere!