---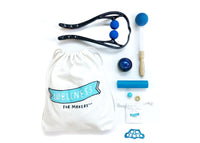 What's Included?
Instant Download: Wellness for Makers Guide to Healthy Hands, Wrists, and Forearms. This guide includes instructions for all of the tools in the bundle. Use this guide to learn stretching, strengthening, and massage techniques to develop a Happy Healthy Hands Routine that works for you!  
Soft Foam Ball
Acupressure Ring
Mini Carrying Pouch: Perfect for your foam ball and acupressure ring.
Rist Roller
Bonger
Hit the Spot Neck Massager
Hand strengthener
Large Carrying Backpack Pouch: Bring your new wellness tools with you anywhere!

Bundle Price: $79.99